The Parable of the Grounded Woman
Written & created by Elisabeth Tomlinson
Performed by Heba Kamal 
Music by Nancy Mounir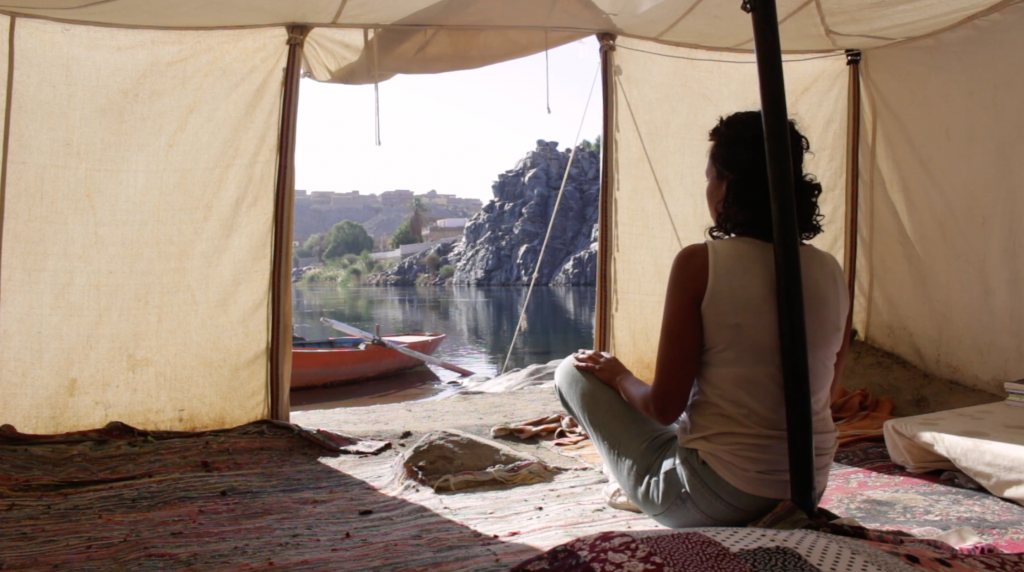 what is the most magical thing you learned from making this film?
…I forgot my dream of acting for over 30 years. Being in the film and working with Liz who could see my interest and talent without me even mentioning my desire to her was very heart warming and reassuring.
I think it taught me the kind of art that I want to make which was a big deal for me at the time and still is…
The Parable of the Grounded Woman follows a traveler, isolated by choice who trains herself to live by a river and to learn how to navigate and survive. It is a parable that is existential, humanistic, and cyclical: utilising symbols from religious texts, the film narration is a repetitive cycle of triumph, defeat, sorrow, self-hate, anger, numbness. Culminating in resilience and routine as the singular character rows down the river and returns home every day. The moral principle is confusion as demonstrated in the acting, feeling, and living of this woman.
Parables themselves are stories used for learning and mythologising moral lessons, often featuring animals or supernatural beings. In Christianity, they're known to be used by Jesus in his ministry on earth: they are didactic and conclusive – prescribing morality and drawing a dividing line between the righteous and damned. In The Parable of the Grounded Woman, the physical body of the woman, played by Heba, is a social and political symbol. A symbol that addresses constructions of subjectivity: a subjectivity that a body, or the body, takes in a specific social context.
The film draws on Elisabeth's experiences in the American Evangelical church and Heba's experiences in the Muslim faith, to appropriate religious texts and the social order derived from these two religious traditions.
What's fascinating about this film is how subtle, direct and relatable the woman Heba plays is. Where did the idea of this character appear? 
I wrote this story before I ever picked up a camera, so this woman wasn't written as a character, she was just written in my notebook and it was just for me. The character is me and it was especially me at the time I wrote it about 7 years ago. Once I started working with video it came back to my mind and in the same thought, I knew I wanted Heba to be the actress.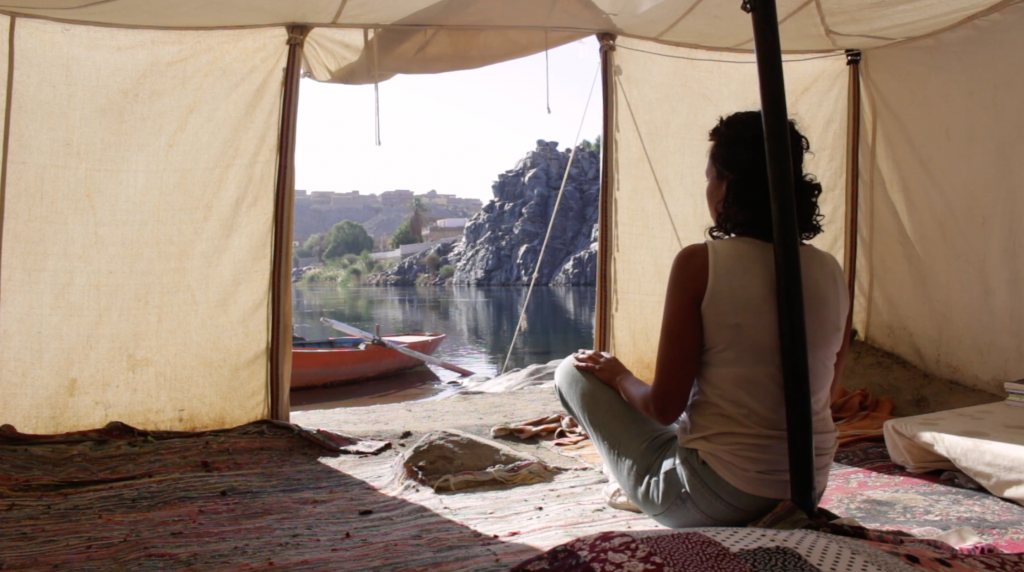 I wasn't sure if we'd be able to pull of the project, but I knew she would get it and I just wanted to share it with her. On set it was just her and I 90% of the time. I didn't give her much direction; I would mainly just describe how the character would be feeling in the scene and then Heba would have to conjure that feeling and I'd capture it. Also, we were sleeping in the tent from the film and waking up to the Nile every morning like the character. When she's in the boat I'm in there with her, when she looks scared going through rapids, she is scared, if the camera is a little shaky it's because I was scared too. I think the character is relatable because she was never really fictional.
When I first watched it, I wasn't in a very good place. And seeing her breakdown, seemingly over nothing and everything, in the water, was a great release. Especially with how beautifully it was filmed. What were your conversations around this "breakdown"?